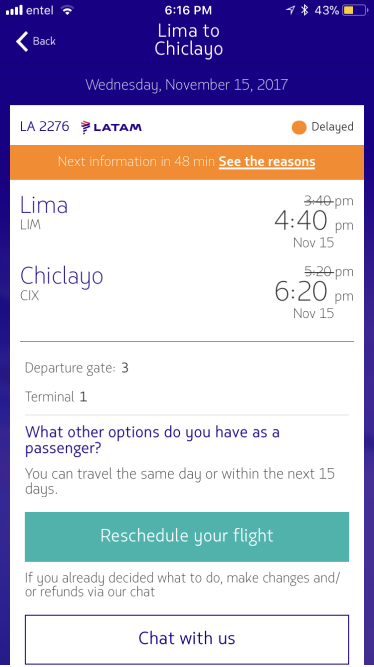 STAFF APP
Client: LATAM airlines HQ (Chile, Peru, Brazil)
Context:
Design tools to help improve the passenger's experience during a contingency of a flight delay (1. nature-related contingency; 2. technical contingency)
Proposed solution: Staff App to help them take care of customers during a contingency
Prototype test: Staff App showcasing options to make changes to passenger's flights, book hotels and services *when available*, submit comments on a reservation for other teams to access, access direct and up to date information from relevant parties, be able to submit requests and status on the field.
Goal: understand the value of creating an internal App linked to the business App, exclusively for the use of Staff.
Hypothesis:
Having a staff app should improve the customer experience as well as the communication between field staff and office staff in all countries and offices
Assumptions:
1. Staff is not in control of a situation, having access to passenger's flight's information would provide a better experience
2. Staff is unaware of what's going on in the back end of things, having a secure place to consult the status of things would provide them with better understanding of the situation
3. Staff can't communicate effectively with all relevant parts while on the ground, having an app could help them update the status or receive information on next steps
4. Staff and passenger communicate on the ground, this information is not registered, this causes other teams to stay in the dark and prevent them from effectively providing the passenger with a solution
5. An app with certain levels of control and autonomy could provide effective results in the passenger's experience.
6. Passenger's impression about the staff and company's service should improve when the staff is being proactive, showing they care, and actively creating solutions.
Discoveries:
1. The staff sees the app as an extremely valuable tool
PROs:
- It allows them to have control over certain areas of the situation
- It allows them to be proactive in the situation
- It shows the passenger they care, which creates a smoother environment during a "crisis"
- It allows them to know exactly what's going on and be able to better inform
- It allows them to create notes on passenger's situation that could be picked up by other teams in order to continue providing them with support
CONs:
- Time is very limited during a contingency
- Staff is limited in relation to the number of passengers
- Technology tools are very limited on the ground
- Internet and other tech-needs are not necessarily supported in every country, city and type of airport
- Passenger's expect solutions in a timely manner and this particular solution may take too long