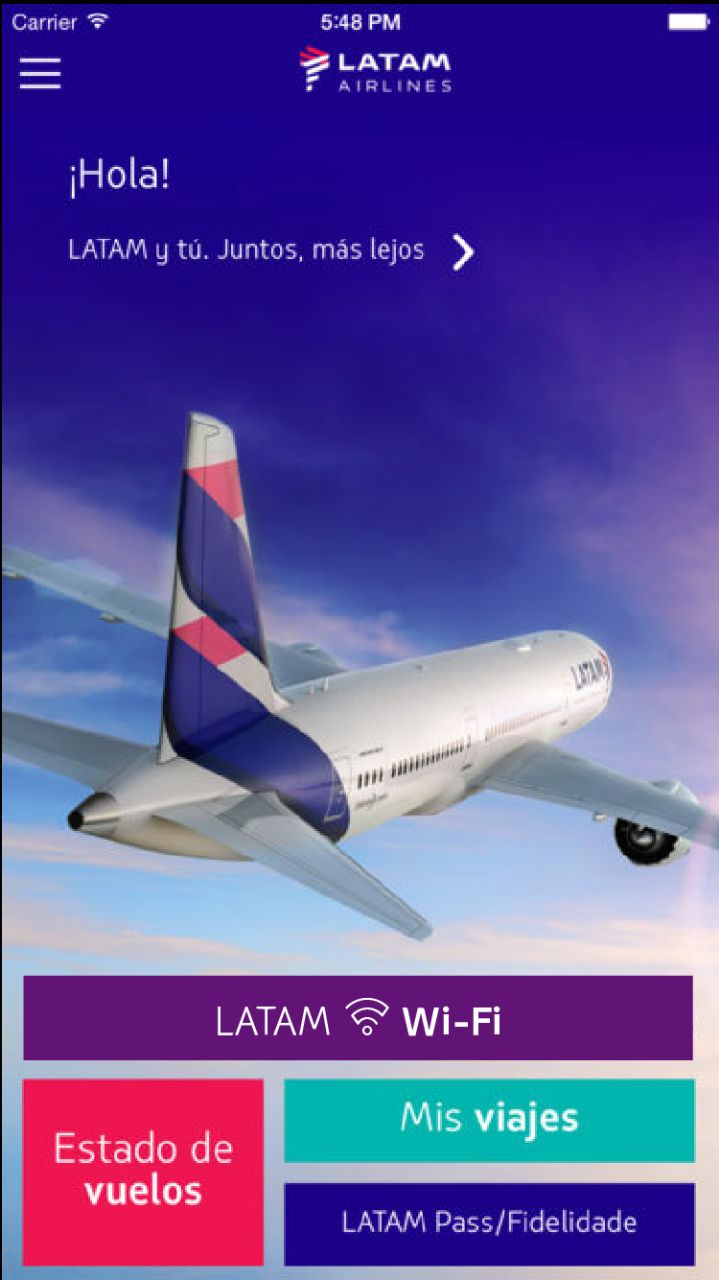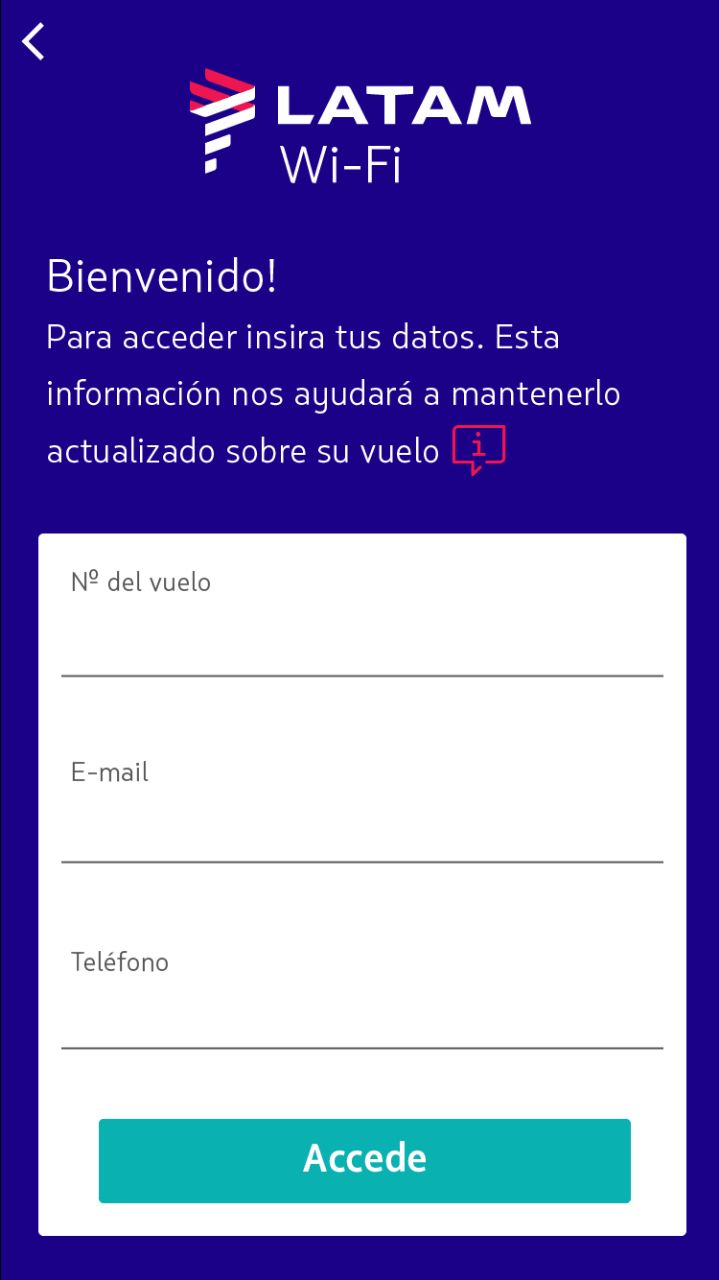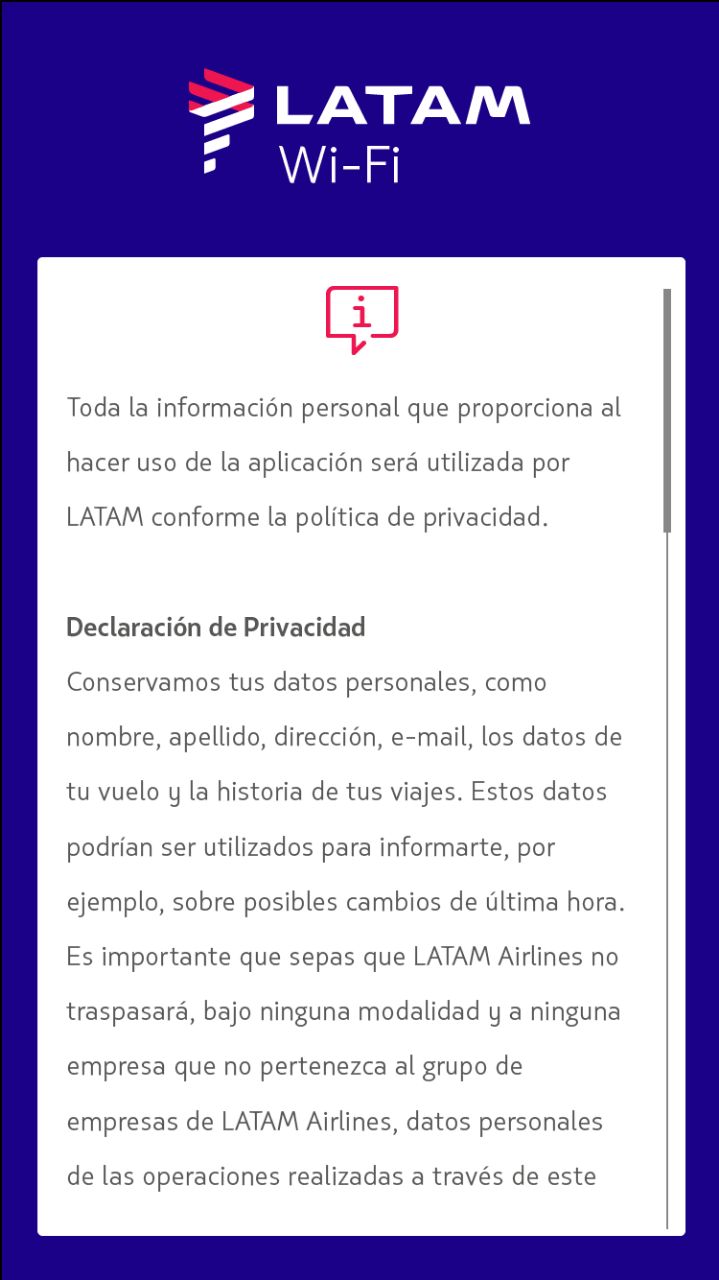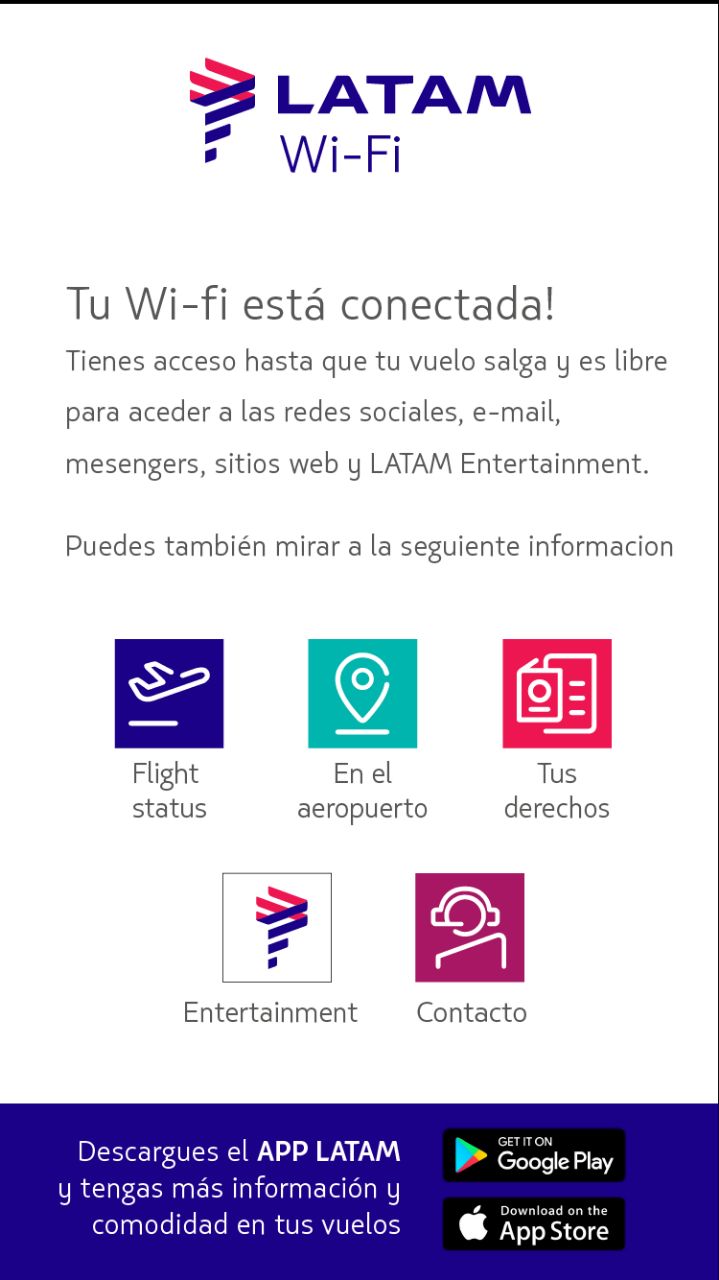 FREE WIFI
Client: LATAM airlines HQ (Chile, Peru, Brazil)
Context:
Design tools to help improve the passenger's experience during a contingency of a flight delay (1. nature-related contingency; 2. technical contingency)
Proposed solution: Offer free wifi throughout the whole travel experience (not only during contingency) to engage passenger's with the airline app
Prototype test: Test the engagement of users if free wifi was provided as part of the value proposition of the airline.
Goal: understand if offering wifi throughout the entire travel experience would make passenger's more prone to downloading the airline app and being connected to the company through this tool.
Hypothesis:
Passengers don't download the app for several reasons (not-tech people, lack of memory on phones, low-usage, no wifi, no real value), most airports charge for wifi. We thought providing free wifi as part of the travel experience would make users more engaged to the company through the app (which is also allowing them to have free wifi)
Assumptions:
1. Knowing they would have access to free wifi, passengers would download the app before starting their travel
2. The app would become their #1 source of information
3. They would communicate and receive information through the app once they are guaranteed free connectivity
4. Push notifications and other semi-invasive means of communication would reduce the number of people who stay in the dark while a contingency is happening
5. Passenger's engagement and loyalty to the company would increase slightly by better experiences and value propositions
Method:
We invited customers to tell us their current travel experience from start to end
We invited them to imagine their last contingency and the way the felt and to name the key issues
variant 1
For those passengers mentioning wifi access or lack of connectivity we took them through our proposed solution
variant 2
For those passengers not mentioning this issue or never having experienced a contingency we walked them through a fiction story and invited them to explore the differences between being connected and not connected to wifi.
Discoveries:
1. Passengers value wifi as much as any other travel perk such as food, beverages, comfort, seats, and amenities
PROs:
- For frequent flyers, it would definitely increase brand loyalty to have access to wifi
- All passengers said if wifi was provided though the app, they would download the app
- All passengers agreed that if they were getting wifi through the app and notifications came through, they would more likely pay attention to them on their phone than any other mean of communication.
- Frequent travelers saw free wifi at airport waiting areas as key to brand loyalty
- Infrequent travelers showed wow-factor impressions when they understood wifi is not guaranteed and often charged
CONs:
- Non-frequent travelers and non-loyal customers don't see the value on free wifi as much, because they say they wouldn't necessarily know that it was an option
- Most passengers have little brand loyalty so it didn't necessarily mean they would know about wifi
- Most passengers said they pay little attention to any other information on emails that is not directly related to their travel time, gate and terminal info, and flight status, so they mentioned they wouldn't necessarily know there was free wifi
- Marketing the tool would have little impact on passengers who are low-tech engaged / or have low-connectivity
2. Communicating anything related to a contingency through the app if wifi is guaranteed across the airport was the most desired solution
PROs:
- Passengers with previous contingency experience mentioned it would have been very beneficial in other experiences to have wifi access throughout the airport because they're often asked to move gates or they feel the need to use other airport facilities such as food courts, lounges, and restrooms
- Having push notifications during the time of the contingency would be great
- Solving contingency problems through an app that works well is most of the type of passenger's preferred way of working things out
CONs:
- Passengers are afraid that opening up to push notification or any other kind of notifications for the purpose of contingency management would become a marketing tool
- WIFI may be only be available at the waiting area which may make it difficult for passengers to move around if needed
3. Frequent, business, tech-savvy, travel hacker passengers are skeptical
PROs
- Effective and quick communication is sought by these kind of passengers, especially if they can take control of their solution
- They are very prone to use this solution very often if it is well built and causes close to no frustration
CONs:
- Frequent travelers, business travelers, tech-savvy, or travel hackers who have had at least 1 experience with contingency are extremely resistant and skeptical to this solution due to current options in the industry, it would take a really great product to really surprise them, engage them, and then create brand loyalty